A Must-Have For Any Wine Enthusiast
"I love how the Parkside Flask™ allows me to easily bring my favorite wine to a picnic or poolside hang. No need to bring a cooler or figure out cups that won't break. I just fill it, throw it in my bag, and go meet my friends. It's such a sleek way to share a good bottle of wine during any social outing."
Germaine // High Camp Customer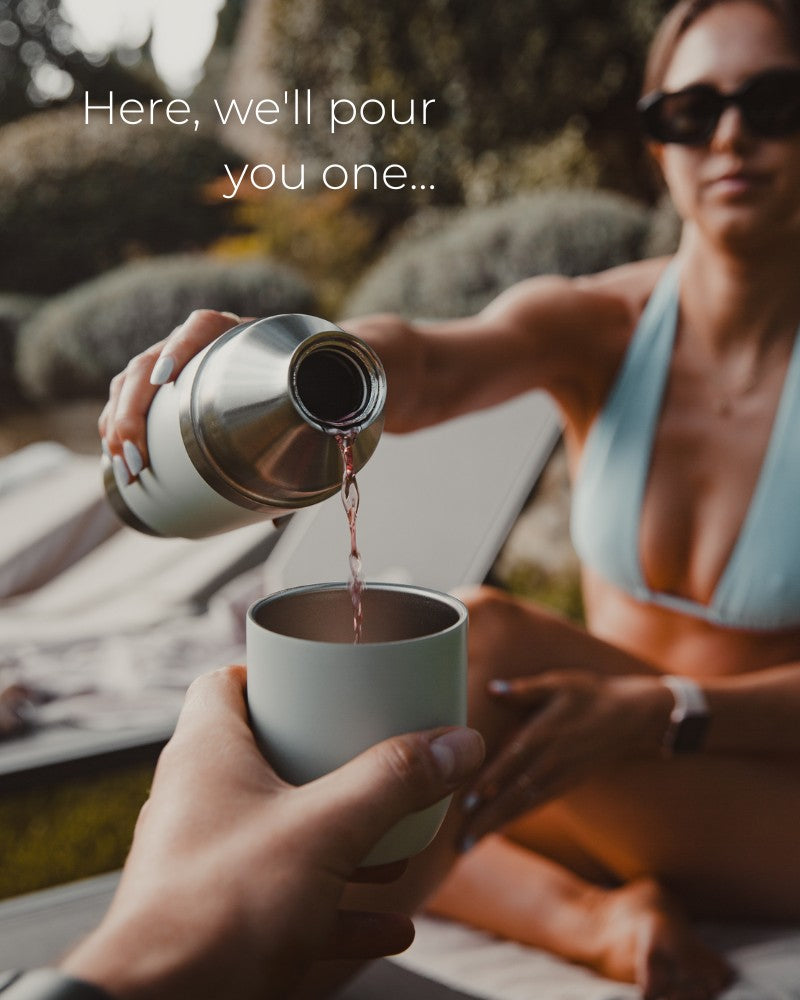 The Parkside Flask™ Solves Wine's Portability Problem.
Vacuum insulation keeps your wine chilled up to 24-hours. No need to bring a cooler.
The magnetically integrated stemless wine tumblers actually feel like proper wine glasses. Never drink wine from a red solo cup again!
Premium stainless steel keeps the flavor of your wine pure. It'll taste exactly like it would out of the bottle.
Sip in style. Our flasks are designed to elevate the experience—and the aesthetic—of any outing.
Start Sipping Now
Two Sizes. Four New Colors. All Flasks Feature:
Hot Or Cold For 24 Hrs.
Plastic-Free
PhantomLock Technology
Stainless Steel
No-Drip Lip
No-Funnel Fill Up
Frequently Asked Questions About The Parkside Flask™
We make two sizes of Parkside Flask™. The Parkside Flask™ 750 fits an entire bottle of wine, and comes with two integrated tumblers. The Parkside Flask™ 375 fits a half bottle of wine and comes with one integrated tumbler.

We designed the Parkside Flask™ with wine, and wine drinkers in mind. From the shape of the stemless tumblers, to the features of the flask, we feel the Parkside offers the best solution for enjoying a glass of wine outdoors. However, the flask also works great for a variety of other beverages including coffee, water, and juices.

*Note* Do not put sparkling wine or other carbonated beverages in this flask. The pressure build up can damage the threading and seal of the flask and render it unusable

All of our flasks arrive in beautiful, high-quality packaging reflective of the premium nature of our product. We think you'll love the unboxing experience, and we think our packaging helps make our flasks an excellent gift for someone else.

Within each box you'll find the following:

The flask you ordered.
A protective sleeve for your flask. Use it for storage and for cleaning the cups after you are done with your drink.
A product use and care instruction manual.
A recipe for a delicious cocktail or wine punch crafted by our founders. It's a delicious drink for your new flask.
A magnet warning.

Most orders from HighCampFlasks.com are shipped within 1 business day of placing your order. You will have several shipping and delivery options at checkout.

Economy - 5-8 day service, this is comperable to typical ground shipping services.
Standard - 3-4 day service, this is comperable to typical expedited shipping services.
Express - 1-2 day service, this is comperable to typical overnight or air shipping services.

Expected delivery dates are displayed with each of our shipping options available during checkout. We offer FREE Economy Shipping on orders of $175 or greater.

We want you to love your Firelight Flask.

If you are not satisfied, you can return it within 30 days of your purchase. To be eligible for a return your flask must be in new/unused condition in it's original packaging.

Review our full return policy here.

All High Camp Flasks come with a lifetime warranty on craftsmanship and factory defects. This warranty does not extend to normal wear and tear.

Great question. Unlike many stainless steel drinkware companies that source existing designs from large overseas factories, we prefer to innovate. We developed the Parkside Flask™ from the ground up, including some of the tooling to produce it. We hold the patent on the magnetic tumbler integration. High Camp is the only place you'll find a 3-piece wine set like the Parkside Flask, so we trademarked it to protect our products from copycats. It's a little annoying to have to write the ™ anywhere. But it's a small price to pay to ensure our customers get the very best integrated wine flask on the market.
Explore Our Other Products